Hi Loves! The grand GSS launch is finally up!
Have fun shopping for great deals and wonderful steals.
Click here to shop:
http://electricloveltr.livejournal.com/14810.html
NEW COLLECTION n♥. 31 My Carousel Wonderland
Enjoy privileges of free normal mailing when you purchase from Chic collections.

Normal mail privileges are not applicable to vintage collections
.
VIEW OUR OTHER COLLECTIONS HERE:

NEW COLLECTION n♥. 30 ELL's Style Report on Spring's hottest colours
[THE BOLD AND NEW]

NEW COLLECTION n♥. 30 ELL's Style Report on Spring's hottest colours
[FUN ESSENTIALS]
n♥. 29 Spring's notes! Ready-to-wear collectibles!
n♥. 27 My Spring's Wish List!
n♥. 21 I love being the material girl
n♥. 24 Popsicle Wonders!!!
FOR INSTANT UPDATES ON COLLECTIONS AND UPDATES:
"Like" us on our facebook for first hand update on our latest launches and promotional offers!
Click
here
to do so.

SHOP NOW WITH OUR CURRENT PROMOTION.
Terms & Conditions apply*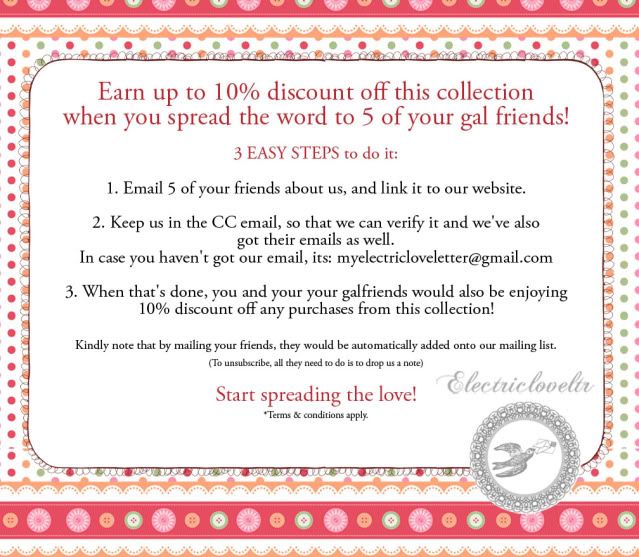 We've also brought back everyone's all time favourite

SPREAD THE LOVE PROMOTION
Earn up to 10% discount off this collection when you spread the word to 5 of your gal friends!
Here's 3 EASY STEPS to do it:

1. Email 5 of your friends about us, and link it to our new collection 31

2. Keep us in the CC email, so that we can verify it and we've also got their emails as well.
In case you haven't got our email, its: myelectricloveletter@gmail.com

3. When that's done, you and your your galfriends would also be enjoying 10% discount off any purchases from this collection!


Kindly note that by mailing your friends, they would be automatically added onto our mailing list.
Promotion only applies for this collection.


(To unsubscribe, all they need to do is to drop us a note)
*Terms & conditions apply.